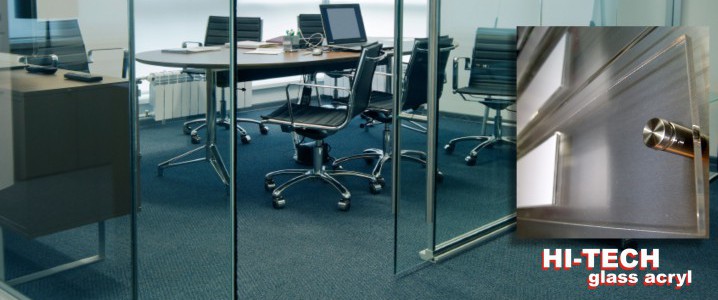 HI-TECH: Plates, Boards, Signboards
The HI-TECH system is a modern form of marking your headquarters, which is very popular all over the world. The whole system consists in printing the information on your own (ordinary sheet or satin tracing paper purchased in our company), inserting tracing paper between two layers of acrylic glass, i.e. transparent plexiglass, and connecting the whole with metal spacers. In addition to purchasing typical door plates, you can create your own information board or signboard in front of the entrance to the reception desk, put various types of information on A4 plates and print nice photos by sticking them on the board format, e.g. B2 50 x 70 cm - a perfect form of presenting company photos, motifs landscape that harmonize with the entire HI-TECH identification system. We are a leader in the production of this type of systems and we have the best prices on the market because we directly import plastics and metal spacers, avoiding trade wholesalers. Once you find out about our competitors, products of this type are at least twice as expensive. Creating your own information board does not have to be a difficult matter for you - you only need to choose the number of panels and the method of their installation is free and very simple.
3 techniques of applying information / graphics on the media presented in the table below:
Card or tracing paper "frosted glass" (ream 100 pcs. - PLN 55.00 net) for: Plaques / information boards price: Your dedicated time
Self-adhesive foil / printout for: Signboards, Information boards: price: surcharge + 50% to the product price.
Plexa - a spatial form for: Signs, Information boards: price: extra charge + 50% to the product price.