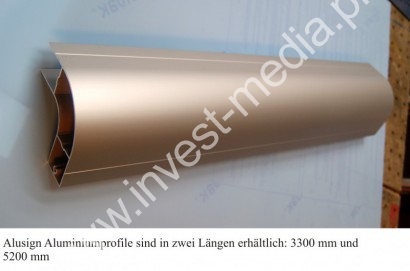 ALUSIGN Pylons profiles are available in two lengths.
330 cm barbell = 80 EUR
520 cm barbell = 130 EUR
End cap on the top of the profile: EUR 6 / pc.
Alusign profiles are a light, durable structure distinguished by an aesthetic form.
+ VAT 23%
Using this profile, we can freely compose the dimensions of our pylon.
By cutting the 330 cm profile in half - we will get a 165 cm pylon
By cutting a 520 cm profile in half, a 260 cm pylon is created.
For the face, we use either: PVC, aluminum, dibond, etc., etc.
Installation with a steel profile 25 x 25 mm - insert half into the pylon and the other half into the profile.
Przykładowe realizacje