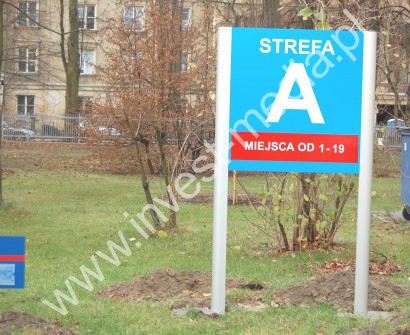 Parking markings.
Dimension: 165 x 110 cm
board 100 x 100 cm
A board with the markings of the parkung zones.
Area A, Area B, Area C etc etc.
The board is built on the basis of a system aluminum anodized silver and
plastic - 5 mm PVC + aluminum back structure.
Garafika made of 3M foil.
the board has additionally 2 steel profiles 25 x 25 mm with a length of 2 x 100 cm
50 cm is buried in the ground - 50 cm goes inside the profile.
NOTE - The board is demountable with side screws.
ADVERTISING AGENCIES !!!
Very high discounts on products for advertising agencies (minus 25%) after sending company documents confirming the agency activity by e-mail .
Przykładowe realizacje