Plexiglass anti-frame at distances - A0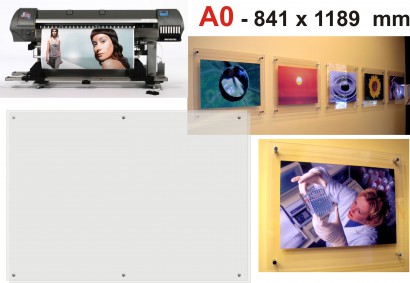 Poster board HI-TECH A 0 849 x 1189 mm.
Application: facade - poster printing / photo presentation, etc.
Two layers of acrylic glass - 8 mm + 6 steel stainless steel spacers with dowels and screws.
We emphasize that our spacers are made of acid-resistant steel (not made of plastic, corian, metal / shell, etc.)
Using a spirit level, mark two points with a marker pen through the holes cut in the plate - drill the holes - insert the pegs - screw it on
the bottom of the distances to the facade - put a sheet of paper between two layers of acrylic glass - put the spacer heads - twist the spacer heads to the right.
Approximate installation height of plates - 150 cm from the bottom to the bottom of the plate.
Przykładowe realizacje