Pylon reklamowy MedaAlu 1,6 x 0,8 m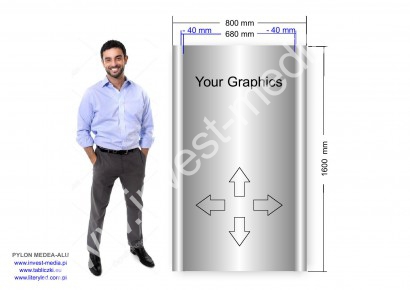 Pylon with a list of companies, Directional pylon, Advertising pylon, Entrance welder, Advertising board, EU board, Totem,
Parking boards: boards defining the parking zones, boards for the parking lot with regulations.
Medea Alu pylons are manufactured on the basis of a system profile anodized in silver, one-sided or two-sided.
Advertising pylons in this technique are distinguished by a modern style, good quality and, above all, low price in relation to
to products in this group.
Construction of the Pylon:
- system side profiles silver anodized.
- face: system panel panels - brushed aluminum.
- Graphics digitally printed directly onto aluminum.
We can attach various types of snap frames for exchangeable information, containers, etc. etc. to the face.
- possible external illumination with LED halogen on the arm.
The product is packed in one mobile package with simple assembly instructions.
1 - Your assembly: Easy and quick assembly in the range included, according to the attached instructions.
2 - Our assembly: We also provide assembly throughout the country .... please specify the city ... we will quickly get a quote.
The pylon can also be mounted on the external foundation without interfering with the ground.
The price in the box is for a one-sided pylon.
Przykładowe realizacje